Grooming

Let's face it. Keeping a dog looking their best isn't always easy. While some dogs jump into a bath with ease, others will do whatever it takes to keep their fur dry. And if you've ever struggled with trimming a dog's nails, you're not likely to give it another go.
To make life for you and your pup easier, we offer nail trimming and bathing services in Fort Collins to all our dogs. While we're providing daycare or overnight care for your pet, let us handle the time-consuming and exhausting grooming tasks most pet owners dread. Imagine coming to pick up your dog after a long week apart and being greeted by a squeaky-clean companion who's ready to catch up on some cuddling!
Your pet doesn't have to be staying with us to receive any of our Fort Collins dog grooming services either. Set up an appointment for your dog's bath, nail trimming, or styling that fits around your schedule.
We offer a wide variety of dog grooming services in Fort Collins at All Pro Dogs K9 Corral. We know how to comfort nervous pups and make bath time an enjoyable experience. Our baths include shampoo, blow-dry, ear cleaning, and brushing. We also offer nail trims, hair trimming, teeth brushing, and de-matting. Custom spa packages are always available based on your pup's grooming needs.
Let us handle the dirty work with our Fort Collins dog grooming service, so you can enjoy more quality time (and good smells) from your furry companion.
Grooming Experience
While we always remember the day to day needs of our dogs, we often forget that their coats, skin and nails need special attention too. All Pro Dogs K9 Corral offers a high-quality experience for your dog grooming needs. Our nationally certified groomer, Jessica Beckley, has 16 years of grooming experience. Jessica Prides herself on personalized experience and professionalism. We provide a safe, stress-free, and welcoming experience for your dog while following strict cleanliness protocols required by the Colorado Department of Agriculture Pet Care Program (PACFA).
Quality Products
We only use high quality shampoos, conditioners, and other products specifically designed for your dog's individual needs. Our products are Paraben-Free and do such a good job cleaning your dog that we do not need to use sprays or colognes that may irritate your dog's skins or cause allergy flare ups in owners.
Full Service Grooming
From nail trims to full-service cuts, our grooming services are designed to fit your dog's specific needs. Whether it is dry skin, itchy skin, breed specific cuts, or lifestyle needs. This means we can groom every dog from your super active Labrador to your lap dog who loves to just lay around all day. Nail trims with dremelling is included in the price of the groom service as well as anal gland expression upon request. If your dog needs it's teeth brushed or needs ear care, let us take care of the dirty work.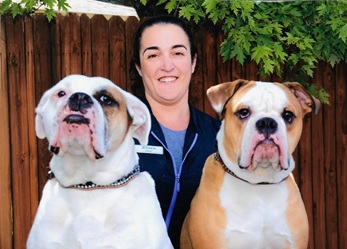 Certified Groomer, Jessica Beckley
Here at All Pro Dogs K9 Corral, we will work around your busy schedule. You can drop your fur-baby off while you run errands, or we can even perform the groom while your dog is at our facility for day-care or boarding. We offer grooming services Tuesday – Saturdays so make sure we are available when you need us.
Benefits of K9 Corral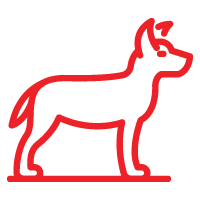 Antifatigue mats
Our lobby, training room and grooming room are all lined wall to wall with antifatigue flooring to allow for traction and joint support for dogs. No more slipping and tired joints.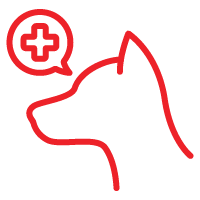 Management Trained in K9 CPR and First Aid
Our Kennel Managers are required to train in K9 CPR and First Aid to be able to assist in those rare emergencies where time is of the essence. Kennel Managers are Basic Life Support and Advanced Life Support Certified.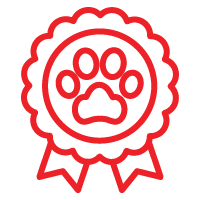 PACFA Licensed
This means our facility is held to a higher standard of cleanliness and care for the dogs. We follow all rules and regulations to ensure the good health and well-being of dogs.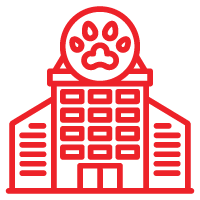 Just in case
We are just minutes away from multiple general practice veterinarians and an emergency veterinary clinic.